October 23, 2017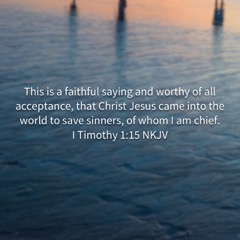 Isn't it incredible to know that the Lord Jesus Christ died for the chief (or worst) of sinners?!? I find it so comforting to know that He died for me. He took the punishment for each of us when He willingly died for our sins! You don't have to do anything good to gain salvation. You don't have to have to go church either. You and I sin daily, but as long as each person believes in Jesus Christ and the gospel we can have eternal life! I am so thankful it doesn't depend on what I do or say, but on His precious gift which He offers to all who believe! Life is short. I am reminded of that more and more as craziness continues to happen in our country! Have you believed in Jesus Christ's finished work on the cross yet? Today is the day because we are not guaranteed tomorrow. If you have received Jesus as Savior this a good time for you to be thankful for the GIFT He has given us!!
**Please pay close attention to the email as there is lots of important info this week**
SENIOR NIGHT
Senior night is this coming Thursday night, October 26th at 6:20! (Warm ups start at 6 PM) We have 2 seniors this year!
Jamie Miszuk
and
Hannah Johnson
have meant a great deal to the Warrior family! Come out and honor them as we invite our Warrior alumni to play against our current varsity! The seniors will be honored at 6:20 and after senior recognition the alumni game will be played! We would love to have as many Warriors as possible attend this event!
PAL Tournament
According to the website both teams got really good seedings for the tournament which is super exciting! Nice job, ladies!! (I have attached your brackets to this email =) )
8AA you will be playing Concordia Jr. High Thursday, October 26th 6 PM at St Roberts (11900 Pacific Street, Omaha, NE)
8B you will be playing St. Matthew Friday, October 27th, 8PM at St Pius- Leo (6901 Blondo Street, Omaha, NE)
Practice is coming to an end!
Can you believe it? Volleyball season is coming to an end! We are in our last 2 weeks of the season for all teams! 6B your last practice will be on Tuesday! We coaches have decided to give the 8th grade teams the courts for the first 2 hours of practice this week. 6B you will come to practice at 11:00 for crazy day with your friends from the 8th grade teams! A fun Warrior tradition is to come wearing crazy clothes and crazy hair! We have always made the last practice a fun practice so be prepared for lots of fun =D 8th grade teams your last official practice will be Thursday, October 26. High School teams your last practice will be Tuesday, October 31.
Warrior Week Replay
Varsity played a very hard fought match against Lincoln Tuesday night but lost in 4 in a best out of 5 match. They then got 2nd place at the Lightning tournament..It was good volleyball all day long!
JV played in Lincoln as well and won after an unexpected injury in the first set! They also played in the Lightning tournament where they got 3rd. It was a trying day(injuries and sickness) for the girls but they pushed through with great joy! By the end of the day they had Noelle Wamhoff (5'2") playing middle but she did so with a smile on her face! Way to stand strong in the midst of hardship, ladies!
8AA had 2 games this week! They played Tuesday night and Saturday. They lost Tuesday but Coach Rachel says their defense continues to improve! Saturday they were able to get a win which hopefully will give them a good seed in their tournament!
8B had a few girls missing this week and a hard game on Saturday. They continue to work hard and will be preparing for their tournament this week!
6B finished their season this week! Coach Lauren's goal for them in their tournament game was to play as a team and have fun! She said that all of you did a great job doing both of these things! What a great season!
NEW Time/Day for the Volleyball Sports Banquet!
We are trying something new to Warriors this year! We will have a Volleyball Banquet on Monday, November 20th at 6:30. It will be held at Millard Community Church (Off of 126th and Q St.) We are hoping this will allow for a shorter sports banquet! It will also be a better way for the girls to keep the memories from their seasons more alive/ exciting than to wait 5 months. 😉
Volleyball Sports Banquet Slide Show Pictures Needed

🏐📽😁
This year we are planning our Volleyball Sports Banquet for sometime in November.😁Due to this fact, I have a very limited time to make slide shows for every volleyball team and our seniors. 📷😁Your pictures are needed and appreciated as you take them. Our sports banquet for volleyball is tentatively set for
November 20th
!!
I'm looking for candid pictures, action shots from games or practice, pictures of the whole team, huddles, and pictures of the team just having fun! Selfies are great too;)
Please send me your favorite pictures to
colorrunner02@gmail.com
. If you would rather put your pictures on a flash drive or a CD, you can do that too.
Thanks!
Rachel Sharpe
NHSVBT is less than one month a way! Get your serve on, Warriors! As a part of registration, ALL Warrior families are required to serve two 4 hour shifts at Nationals and bring two food items from our list. Let's get our hands dirty and make something AMAZING, Warriors!! It is so exciting to watch great volleyball and meet homeschool teams from all over our country. Working together builds Warrior community. Click the title link above and sign-up asap so that you get the time slot you want. (Eventually we will just have to assign people to tasks if they do not sign up themselves Please take advantage of picking and choosing your responsibilities now =D) It is a spreadsheet with tabs. Read the directions on the first page carefully. Then click on the tabs along the bottom and sign up in the volunteer slots you want. let's knock this out.
THE WARRIOR CALENDAR
is full of interesting information. IF you were reading it, you would also know that
NOVEMBER 1st is NATIONALS PREP DAY,
and all Warrior athletes competing in Nationals are required to be at TVA 3 pm- 9 pm. but you already knew that.