October 16, 2017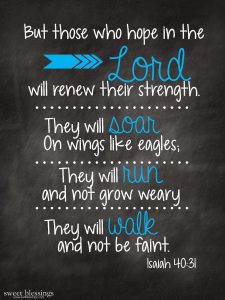 As we approach the last month of volleyball some people might be getting tired, some Mom's might be getting worn out from homeschooling, etc. Remember that we find our strength in the Lord! Anything good does not come from us alone but from Him! That means that He also is the One who enables us to do our daily tasks, love the person next to us or perform our skills on the court! It is only through HIM that we can do anything! Keep that in mind this week as you focus to please Him and do His will this week!
Special note about practices!
Tuesday's practice will be an hour longer as the girls will be making posters in preparation for nationals!
Please remember to leave TVA better than we found it. Ladies please clean up all water bottles, juice bottles and volleyball's after every practice.
Note to parents: please do your best to pick your girls up on time. Katrina (the lady who opens the gym up for us in the morning) often needs to leave right after practice. If we have girls still there she can't leave and that may conflict with her schedule. Thanks so much!
PAL LEAGUE— This weeks games are as follows:
8 AA has 2 games this week. 6 B does not have a regular season game but they do have their tournament!!
8th grade AA will be playing St Patrick at Our Lady of Lourdes (2110 S 32nd Ave, Omaha, NE 68105) Tuesday, Oct 17th @ 6:30pm
8th grade AA will be playing St Bernadette at St James-Seton (4720 North 90th Street, Omaha, NE 68134) Saturday, Oct. 21st @ 1pm
8th grade B will be playing Omaha Lightning at Holy Name (2901 Fontenelle Blvd, Omaha, NE 68104) Saturday, Oct. 21st @ 11pm
6 B will be playing Lifegate Christian at St. Bernard (3604 N. 65th St, Omaha, NE) Tuesday, October 17th @ 6 PM.
**If they win this game this will play again on Thursday night! I have attached the bracket schedule to this email. =)
HIGH SCHOOL GAMES
Varsity and JV get the chance to be together a lot this week! =D
JV plays at Lincoln Lutheran School at 6 on October 17 (This will be best of 3).Followed by a senior recognition for Lincoln's and our seniors! Varsity will play after that (This will be best of 5). Please note that JV cannot use the gym until 5:30 PM! Varsity come at 6 to cheer on our JV!!
Saturday, October 21 both high school teams will be competing in the Lightning tournament! The gym will not open until 7:15 that day. Both teams start their days at 8 AM! I have attached the tournament schedule for both teams to this email.
WARRIOR WEEK REPLAY
Varsity had 2 really exciting games last week! Both games went to 3..one was hard fought with a win in the end and the other they lost by 2! Way to fight to the end, girls!
JV had a busy week! Won their game earlier in the week then went to the TCBA Patriots tournament. There they took 3rd place and won the sportsmanship award! What a great weekend!
8AA is learning lots recently! They have seen their challenges but have had some very close games along the way! While they work on new rotations, trying out new positions and other things they continue to grow.
8B played a really close game on Saturday that went to 3 games! It was hard fought but they couldn't quite pull out the win. You'll get them next time, ladies!
6B had a very close game this weekend! It went to 3 games and they fought super hard! They just couldn't pull out the wi but we are still very proud of them. =) Keep working hard ladies! We promise you that your hard work will pay off in time!
ITS TIME FOR THE WARRIORS ANNUAL PIZZA AND POSTER-MAKING PARTY!
TUESDAY, OCTOBER 17th, after practice 11:00-1:00
**parents pick girls up at 1:00**
ALL WARRIOR PLAYERS (and coaches!) WILL MAKE POSTERS TO WELCOME TEAMS TO THE NATIONAL VOLLEYBALL TOURNAMENT!🏐🥇
*BRING $5 FOR PIZZA 🍕
*BRING MARKERS, PENCILS, ANY ART SUPPLIES FOR MAKING FANTASTIC POSTERS!🎨
(except glitter!)
See you there!!
NEW Time/Day for the Volleyball Sports Banquet!
We are trying something new to Warriors this year! We will have a Volleyball Banquet on Monday, November 20th at 6:30. It will be held at Millard Community Church (Off of 126th and Q St.) We are hoping this will allow for a shorter sports banquet! It will also be a better way for the girls to keep the memories from their seasons more alive/ exciting than to wait 5 months. 😉
Volleyball Sports Banquet Slide Show Pictures Needed🏐📽😁
This year we are planning our Volleyball Sports Banquet for sometime in November.😁Due to this fact, I have a very limited time to make slide shows for every volleyball team and our seniors. 📷😁Your pictures are needed and appreciated as you take them. Our sports banquet for volleyball is tentatively set for November 20th!!
I'm looking for candid pictures, action shots from games or practice, pictures of the whole team, huddles, and pictures of the team just having fun! Selfies are great too;)
Please send me your favorite pictures to colorrunner02@gmail.com. If you would rather put your pictures on a flash drive or a CD, you can do that too.
Thanks!
Rachel Sharpe
GIRL'S BASKETBALL
Is your daughter interested in playing basketball? Looking for a place for your 5th– 12 grade girl to be on a team, make friends, exercise, and build skill? Metro Warriors may be what you are looking for. Metro Warriors provides young home schooled women in the metro Omaha area with a Christ-centered sports program that brings glory to God, supports the home, and encourages physical, social, and spiritual growth.
To learn a little more about Metro Warriors, check out our website and read the handbook.
COSTS: 5th-8th Grade-$200; 9th-12th grade-$275
PRACTICES: Tuesdays & Thursdays at Genesis (formerly Nebraska Elite Sports and Fitness Complex). 1212 N 102nd St. Omaha, NE 68114. Practices are from 9:00am and 12:00pm.
SEASON: November 14, 2017 to early March 2018 (depending on grade)/.
REGISTRATION: Registration (online only at metrowarriors.org) and $50 deposit and $100 volunteer deposit is due October 15. Please send checks to:
Jenny Bickel
12662 Crown Point Ave
Omaha, NE 68164
NATIONALS T-SHIRTS!
Please remember to bring a check tomorrow (October 17) if you haven't paid for your National shirts. =)
NHSVBT is less than one month a way! Get your serve on, Warriors! As a part of registration, ALL Warrior families are required to serve two 4 hour shifts at Nationals and bring two food items from our list. Let's get our hands dirty and make something AMAZING, Warriors!! It is so exciting to watch great volleyball and meet homeschool teams from all over our country. working together builds Warrior community. Click the title link above and sign-up asap so that you get the time slot you want. It is a spreadsheet with tabs. Read the directions on the first page carefully. Then click on the tabs along the bottom and sign up in the volunteer slots you want. let's knock this out.
THE WARRIOR CALENDAR is full of interesting information. IF you were reading it, you would also know that NOVEMBER 1st is NATIONALS PREP DAY, and all Warrior athletes competing in Nationals are required to be at TVA 3 pm- 9 pm. but you already knew that.
4 Him, Coach Jess